Group F of UEFA European Championship 2020 which was label as a "Group of Death" will kick off at Budapest's Puskas Arena and Munich's Allianz Arena from 15 to 23 June 2021. The group consists of host nation Hungary and Germany, defending champions Portugal and world champions France.
Portugal (UEFA Euro 2016 and 2018–19 UEFA Nations League winners), France (2018 FIFA World Cup winners and UEFA Euro 2016 runners-up) and Germany (2014 FIFA World Cup and 2017 FIFA Confederations Cup winners) will be eyeing the top two berth that automatically advance to the knockout phase, however third placing team still may advance to the knockout phase based on ranking.
"Group of Death": France, Germany & Portugal
There is no need of introduction for these 3 team in Group F. Group F would have the hardest results to predict with the 3 big players in the group. They have won every major football tournaments that they were eligible to win since 2014. Portugal even have their key player – Christiano Ronaldo who would be the first ever in history to participate in 5 European Championship Finals.
However, each of the 3 big boy surprisingly had their own struggles during the European Championshio 2020 qualifiers. France had to battle for the first place finishes while Portugal were ended up in second. Germany have faced struggles with Holland during the qualifiers.
Group F
Hungary (Host)
Portugal
France
Germany
Host venues: Munich, Germany and Budapest, Hungary
Group Prediction : 1st France, 2nd Portugal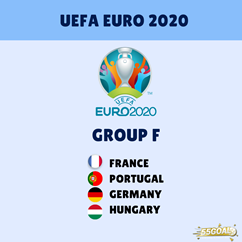 FRANCE
Group H record: P10 W8 D1 L1 F25 A6
Qualifying top scorer: Olivier Giroud (6)
UEFA EURO best: winners (1984, 2000)
UEFA EURO 2016: finalists, lost 1-0 aet to Portugal
Highlights: Albania 0-2 France
Coach: Didier Deschamps
Didier Deschamps led France to World Cup glory in 2018 and also captained Les Bleus to victory at the 1998 World Cup and Euro 2000. He is looking to add Euro 2020 to his glory.
France: Current World Champion
The 2018 world champions and 2016 Euro finalists reached their eighth Euro finals in a row rather comfortably and untroubled by raft of major injuries. At 29 Antoine Griezman will become their undisputed technical leader and main inspiration supported by Kylian Mbappe who was best known for his dribbling, explosive speed, and clinical finishing. With so many talented and star players in the team, Didier Deschamps will have team selection headache on who to choose for the starting eleven.
Key player: Antoine Griezmann
The Silver boot winner during 2018 FIFA World Cup plays as a forward for Spanish club Barcelona and the France national team. Considered as one of the best strikers in the world, he scored three goals and seven assists in Euro 2020 qualifying and has since overtaken Zinedine Zidane in France's all time top scorers ranking. The versatile left footed forward is capable of occupying several offensive positions such as winger, attacking midfielder or main striker.
Check soccer highlights and follow the latest football tournament livescores at 55goal.com. Don't missed out any single exciting moment!
PORTUGAL
Group B record: P8 W5 D2 L1 F22 A6
Qualifying top scorer: Cristiano Ronaldo (11)
UEFA EURO best: winners (2016)
UEFA EURO 2016: winners
Highlights: Portugal 6-0 Lithuania
Coach: Fernando Santos
Fernando Santos who took over the national team in 2014 after a successful stint as Greece coach steered Portugal to success at EURO 2016 and the inaugural UEFA Nations League.
Portugal to defend their title in won in UEFA Euro 2016
The defending champions needed a last game victory over Luxembourg to qualify for EURO 2020 finals but with the experienced coach Fernando Santos in charge, Portugal have achieved good results and won two trophies. Led by Christiano Ronaldo who set to be the first player in history to play in five European Championship finals and some young talents emerging such as Bruno Fernandes, Joan Felix, Diogo Jota and Ruben Neves.
Key player: Cristiano Ronaldo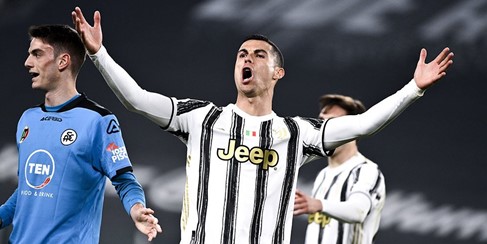 Portugal's most-capped player and all-time top scorer plays for Serie A club Juventus and captains the Portugal national team. The soon to be 36 years old has never top scored at a Euro or World Cup finals but has won five Ballon d'Or awards and four European Golden Shoes award. In 170 appearances for Portugal he has scored a record 102 goals.
GERMANY
Group C record: P8 W7 D0 L1 F30 A7
Qualifying top scorer: Serge Gnabry (8)
UEFA EURO best: winners (1972, 1980, 1996)
UEFA EURO 2016: semi-finals, lost 2-0 to France
Highlights: Germany 6-1 Northern Ireland
Coach: Joachim Löw
Joachim Low who took charge since 2006 and led them to World Cup glory in 2014.
Germany Might be the Dark Horse in Euro 2020 Group F Match
Germany top the qualifying group which also include Netherlands with the experienced of goalkeeper Manuel Neuer, playmaker Toni Kross, Marco Reus and Ilkay Gundogan. Bayern striker Serge Gnabry with atonishing 13 goals in as many games will be the player to watch during this Euro Cup tournament.
Key player: Toni Kroos
The 2014 World Cup winner who plays as a midfielder for La Liga club Real Madrid and the Germany national team. Known for his vision, passing, creativity, crossing and set-piece ability, he is one of the few veterans of 2014 left in a youthful squad. He was voted the IFFHS World's Best Playmaker in 2014 and German Footballer of the Year in 2018.
HUNGARY
Group E record: P8 W4 D0 L4 F8 A11
Play-offs: Bulgaria (a) 3-1; Iceland (h) 2-1
Qualifying top scorer: Willi Orban (3)
UEFA EURO best: third place (1964)
UEFA EURO 2016: round of 16, lost 4-0 to Belgium
Coach: Marco Rossi
Marco Rossi took over the national team helm in June 2018 having previously coached Budapesti Honvéd FC and DAC Dunajská Streda.
Hungary in 2020 European Championship
Hungary needed two wins in playoff to reach the EURO 2020 finals. On paper, the outlook looks not promising for Hungary who are facing France, Portugal and France in the group.
Key player: Willi Orban
The no-nonsense centre back plays for Bundesliga club RB Leipzig and the Hungary national. Strong in the tackle and offers a real threat in attack make him his country's second top scorer with four goals.
All You Need to Know About UEFA European Championship 2020
Due to the outbreak of pandemic, UEFA Euro Cup 2020 have been delayed 1 year to 2021 but remained the title as "Euro2020". For more details about UEFA Euro Cup, you can refer to our blog articles "Who Will Win Euro2020" .
Euro2020 Group Stage Early Prediction: